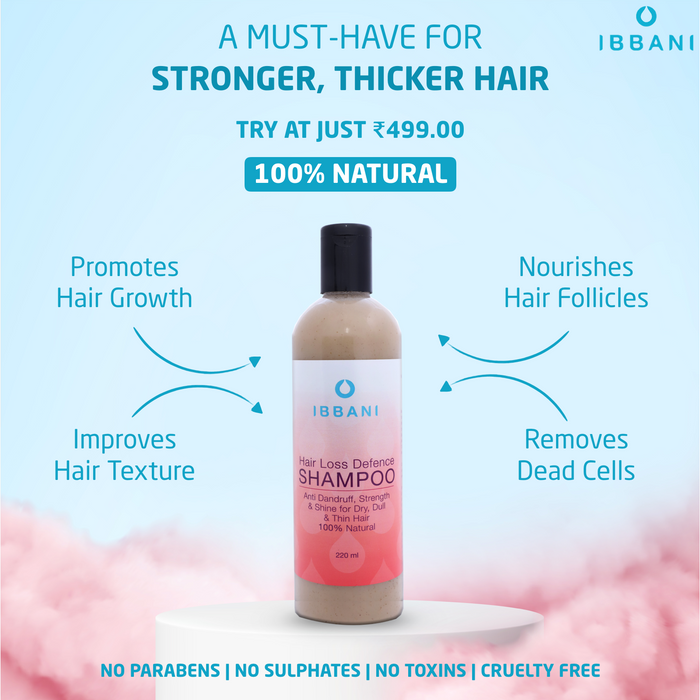 Hair Loss Defence Shampoo (No Sulphates,No Parabens,No Toxins)
Original Price
Rs. 999.00
Save

50

%
How to prevent hair loss? This has been the most sought answer by a large section of people.

Presenting to you a shampoo that not only cleanses gently but also leaves your scalp hydrated and provides a balanced solution for hair that is stronger, healthier, smoother, and shinier.
This all-natural, shampoo has been created to deeply nourish damaged hair follicles, promote hair growth, prevent premature greying and dandruff while increasing the strength and elasticity of the hair. Even if you are someone with the most fragile and dry hair the unique formula involving effective natural ingredients will ensure you have long, strong and ageless hair.
The unique scent from the combination of natural ingredients will make you feel closer to nature.
It is best suited for all hair types that experience any level of dryness, including coloured hair.
Made from 100% natural and active ingredients, you never have to worry about hair fall again.
Shikakai is a natural cleanser, improves hair texture making it shine

Reetha controls dandruff and promotes hair growth

Silk Protein improves the shine of the hair, adding to elasticity, preventing breakage

Provitamin B5 improves elasticity and thickens the hair

Argan Oil promotes cell production improving hair growth and thickness

Jojoba Oil improves blood circulation and nourishes the hair follicles

Basil Essential Oil promotes the growth of new healthy hair

Rosemary Essential Oil prevents premature greying and dandruff

Sugar-Based shampoo base removes dead cells and dirt, promotes healthy hair
Wet Hair, apply the required quantity of shampoo to your hair & lather. Rinse off with lukewarm water.

For best results follow it up with IBBANI's Rich Volume and Shine conditioner thereafter.