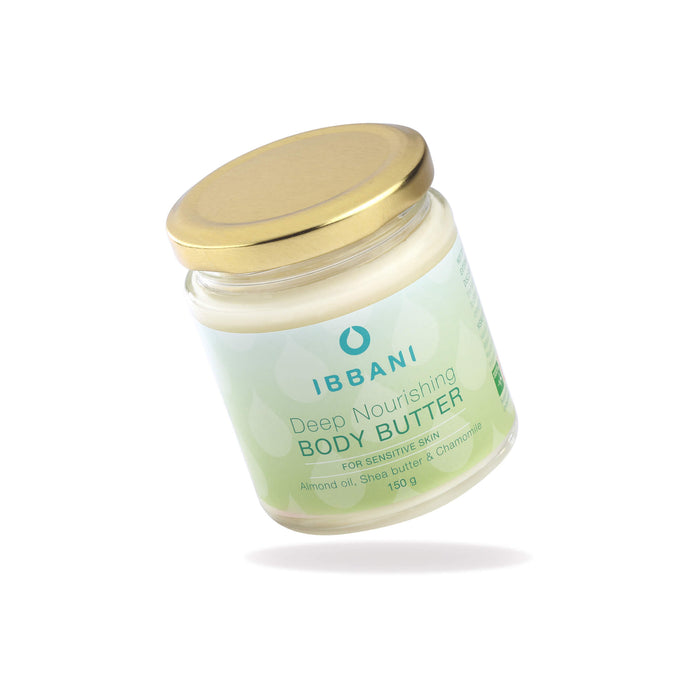 Deep Nourishing Body Butter - For Sensitive Skin
The best body mositurizer for sensitive skin! Say Good Bye to dry, chapped and itchy skin! And say Hello! to noticeably soft skin!!

The ideal safe, pure and gentle solution you were looking for children and adults with sensitive skin.
The perfect solution for getting rid of dry and itchy skin caused by use of hard water or psoriasis or eczema or if you are undergoing chemotherapy treatment. This product is specialised in treating sensitive skin and it works as a deep moisturizer. Once a day use will ensure your skin stays hydrated and noticeably super soft for the entire day. 
Made from 100% natural and active ingredients, so you never have to worry about reactions on your skin from using skincare product.
 IBBANI's Deep Nourishing Body Butter for sensitive skin made with rich natural ingredients ensures you need to neither search nor worry any more!
Safe and pure ingredients to deeply nourish the tender skin round the clock at your fingertips.
Virgin Coconut oil is supremely softening, moisturizing and hydrating

Sweet Almond oil is excellent in moisturizing and hydrating dry, chapped and cracked skin.It is matchless in goodness for sensitive skin of babies, relieving of rashes and sores

Castor oil protects against weather changes. Helps to remove age spots and brown patches

Flaxseed oil is an antioxidant and it prevents damage to the skin

Chamomile oil soothes allergies, rashes, inflamed and irritated patches of skin. It gets rid of microbes and bacteria and helps to fight infection. Prevents diaper rash too!

Calendula oil is rich in Omega 6 fatty acid. It helps to deeply moisturize the skin and keep it super soft

Lavender oil soothes the skin with its anti inflammatory and anti bacterial properties. It relieves redness and blotchy patches

Sandalwood oil is suitable for all skin types and helps to soften and smoothen the skin

Beeswax keeps skin hydrated and moisturized. It forms a protective layer on the surface of the skin protecting against damage from weather

Cocoa Butter boosts the flexibility of the skin and improves the repair function

Shea Butter is an excellent moisturizing agent, it provides protection from dryness in hot sunny climates. Vast amount of vitamin E in it helps to soften the skin
Take a small amount on your fingers. Since this product is made from all active ingredients, a little goes a long way. The unique formulation spreads and gets absorbed into your skin in few minutes of applying

For best results, gently massage it all over your body from neck to toe preferably after bath. Once a day use will ensure your skin stays hydrated and smooth for the entire day