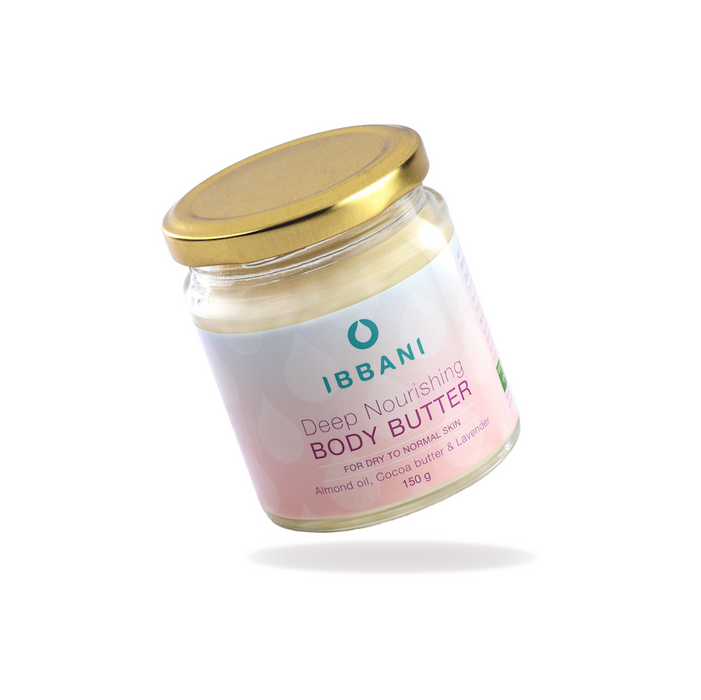 Deep Nourishing Body Butter
Say Good Bye to dry, chapped and itchy skin! And say Hello! to noticeably soft skin!!
Nourished Skin glows. IBBANI's supreme and uniquely crafted Body Butter promises just that, deep, unwavering nourishment. People can't stop from taking a second look at your skin.
The perfect solution for getting rid of dry and itchy skin caused by use of hard water or psoriasis or eczema or if you are undergoing chemotherapy treatment. It works as a deep moisturizer required for that change in weather. Once a day use will ensure your skin stays hydrated and noticeably soft for the entire day. 
Made from 100% natural and active ingredients
Pamper yourself with IBBANI's Deep Nourishing Body Butter, handmade from carefully chosen edible grade ingredients.
Virgin Coconut Oil is a fantastic moisturizer

Almond and Castor Oils nourish your skin making it soft and supple

Wheatgerm Oil promotes formation of new cells and is excellent for fighting signs of aging, reducing scars and stretch marks

Beeswax keeps the skin hydrated and moisturized. It forms a protective layer on the surface of the skin avoiding damage from weather

Patchouli prevents wrinkles, is anti-inflammatory and reduces cellulite

Holy Basil or Tulsi is a powerful antioxidant with antibacterial properties

Lavender oil promotes healthy skin growth, stimulates skin cell regeneration, soothes pain, irritation and inflammation

Rose oil is excellent for hydrating the skin, making it soft and supple and it prevents itchy skin

Sandalwood oil is suitable for all skin types, it softens and smoothens the skin

Orange oil regulates collagen production and blood flow, all of which are key for anti-ageing

Cocoa Butter boosts the flexibility of skin and improves the repair function
Take very small amount on fingertips. Since this is made from all active ingredients, very little goes a long way.

For best results, gently massage it all over your body from neck to toe, preferably after bath. The formulation spreads and gets absorbed into your skin. Once a day use will ensure your skin stays hydrated and smooth for the entire day.